Ginza Yiseyoshi Store Owner
Kimono Designer
Mie CHITANI
GREETING
Welcome to the website of Ginza Iseyoshi.
Ginza Iseyoshi is a small kimono store started in 2009 by Mie Chitani, who was born into the Chitani family, which has operated kimono and Japanese accessory stores in Nihonbashi and Ginza since the first year of Meiji.
While valuing traditional patterns and motifs, we offer products and goods with a sense of beauty and "Tokyo-ness" and "Ginza-ness" inherited from our predecessors. Since 2007, we have also been holding "Small Japanese Courses in Ginza" to share our love of Japanese culture.
We introduce Japanese culture with a focus on kimono to beginners, advanced users, and customers from overseas. Please feel free to contact us.
Profile
After entering the Department of Education in the Faculty of Letters at Rikkyo University, I was able to fulfill a childhood dream of studying abroad in the United States.
After graduating from Western Michigan State University in 1989 and Rikkyo the following year, he joined Citibank, an American bank,
In 1999, I retired and joined my parents' kimono shop. At that time, women were not allowed to be heirs, so my parents were thinking of closing up store in our family of only sisters. I was even made manager of the Ginza branch for the last few years. I felt a sense of duty that although bank jobs can be replaced, the family business had to stay in the family.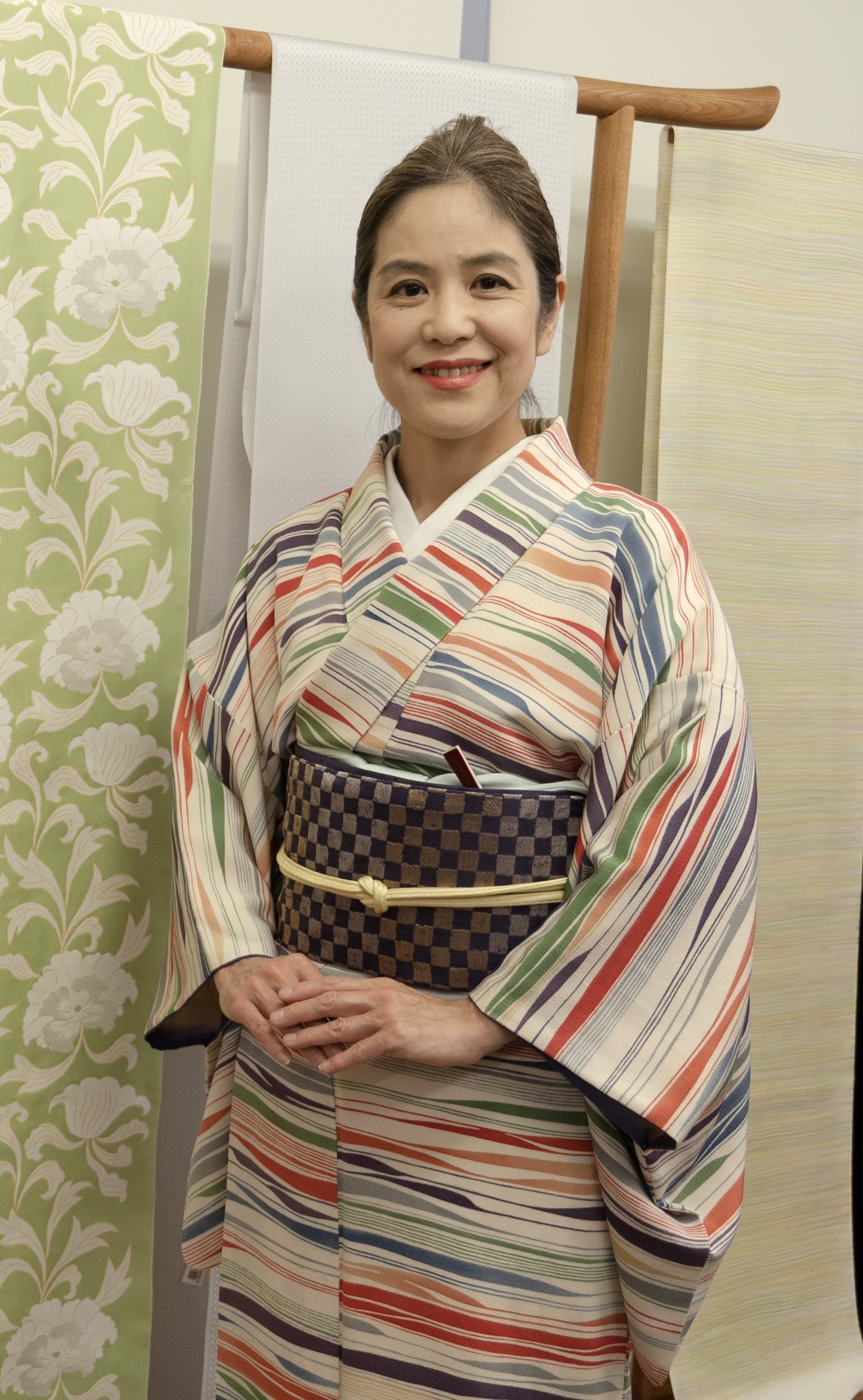 Opened a casual store for young people and beginners.
When I tried it, I found the drapery business to be very enjoyable and a vocation.
However, in contrast to the fulfillment of work, the reality of the declining kimono industry is harsh, with a "shift away from kimonos as daily wear" and a "decrease in the number of craftsmen." Thanks to your support, the "Small Japanese Course in Ginza" that we held to familiarize people with Japanese culture was well received, but the number of customers who bought kimonos did not increase.
So I began to think about taking the plunge and going independent myself from a long-established kimono shop, which is said to be a hurdle to overcome.
In 2009, we rented a room in a building and opened " Ginza Yiseyoshi " to create a kimono shop for young people and kimono beginners. We have had more customers than expected, including many older customers who were not familiar with kimonos when they started.
Returning to my time at Citibank, the company was doing very well at the time, and I was able to see the company grow right before my eyes. I experienced many different types of work, but being put in charge of the Ginza branch at the end was a turning point in my life.
Ginza has been familiar to me since I was a child, but when I started working there, I learned a lot about Ginza, and I also learned a lot about life from customers from many different fields. My attachment to Ginza has grown stronger since then.
We would be happy if you could stop by first. Please feel free to consult with us about anything.
(Please let us know at 03-6228-5875, even if it is last minute.)
The concept of "Ginza Yiseyoshi " is here.
---
Profile
PROFILE
1989
Graduated from Western Michigan State University, U.S.A.
1990
B.A. in Education, College of Letters, Rikkyo University
Joined Citibank, a U.S. bank
1996
Appointed Branch Manager of Citibank Ginza Branch
Retired after realizing the importance of Ginza and kimono work
1999
Becomes the fifth young proprietress of her family's Ginza Kinshun-dori Iseyoshi
2009
Became independent from Iseyoshi and opened " Ginza Yiseyoshi.
Present.