About Ginza Yiseyoshi
Inheriting the "Yiseyoshi taste
kimono designer

Chitani Mie's Shop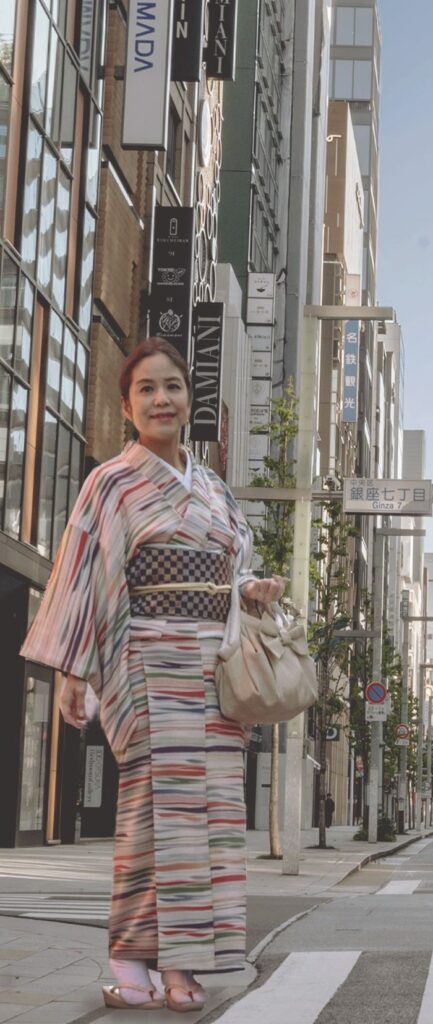 Ginza Yiseyoshi was established in 2009 to provide young people and kimono beginners with a casual look at handcrafted kimonos made by artisans. The store features kimonos and Japanese accessories designed by Mie Chitani, as well as items that Mie Chitani prefers.
Kimono lovers, those who want to wear kimonos in the future, and foreigners are also welcome. We also regularly hold a Japanese culture experience called "A Small Japanese Course in Ginza. We have been holding these classes on an irregular basis recently, but if you are interested, whether you are from overseas or Japan, please let us know.
My interest in monozukuri and Japanese culture is greatly influenced by the enthusiasm of my predecessors who excelled at "monozukuri" in their respective fields of Japanese culture, and the "Yiseyoshi taste" values that were nurtured in cooperation with the transition of Tokyo and Ginza beyond the great earthquakes and fires of war.
In order to explain the "Iseyoshi taste," I have to tell you a little about the history of the Senya family. If you would like to take a moment of your time, I would appreciate it.
Family History of the Chitani Family
Brewing, leather, footwear, yukata, kimono, wooden paintings, bags, precious metals
~Assortment in line with the times, pursuit of what we like~.
From the end of the Edo period to the first year of Meiji (1868), the first generation, Yoshitaro Chitani, ran a sake brewery in Shinkawa, Edo under the name " Iseyoshi. (Yutaro's younger brother ran a yukata, kimono, and furoshiki (wrapping cloth) store under the name of " Iseri.
The first generation, Yoshitaro and Kin Chitani, had no children, so they adopted Seizaburo Tsuchiya and his wife Mii to become the second generation to carry on the business. Seizaburo later changed his name to Yoshitaro Chitani and opened a footwear store in Nihonbashi Wakamatsu-cho in 1876, taking over Ise-toshi's business and selling footwear, yukata and kimono, wood crafts, bags, precious metals, etc., which were patronized by the imperial family, the royal household, and the entertainment industry.
In 1933, we opened a store in Ginza Nishi 5-chome, and after moving to 8-chome, we separated the "Footwear" and "Yukata Kimono" stores. My grandfather and grandmother were in charge of the yukata and kimono stores.
The second generation's own brother is Hanko Kiuchi, son Shoko Kiuchi
Kiuchi Family: Popular as a store that handles works by three generations of master artisans
By the way, the second Seizaburo was a nephew of Kiuchi Kihachi, a ship carpenter, Buddhist priest, wood craftsman, and gun maker ordered by the Shogunate when Perry arrived in Japan. After the early death of his mother, Seizaburo was adopted by the Chitani family, while his younger brother Hanko was adopted by his uncle, the Kiuchi family. His son, Kiuchi Hanko, also became a Living National Treasure for his reproductions of Shosoin Imperial Objects and other works. His son, Kisaihiko, also made reproductions of Shosoin treasures and became a Living National Treasure.
Returning to the story, my grandfather, the third generation, died prematurely at the age of 49, and my grandmother, who became his daughter-in-law, ran the store. Miraculously, my grandmother's store survived the war and merged with a footwear store that was destroyed in the war. When I spoke with Hiroshi, a descendant of the Tsuchiya family, in his later years, he told me that his grandmother was kind and that the store, which was built after the Great Kanto Earthquake and before the air raid, was so magnificent and stylish that it was used as a movie set.
The most important thing is "goodwill".
To meet the expectations and trust of our loyal customers.
My father, the fourth generation, who lost his father early in life, carried a yukata from the time he was a student and went peddling in the Kansai area. My father told me many times that he was able to buy many yukata from my father, who was not well known, because of the "noren" (goodwill). My grandmother also said, "If the noren is damaged, the trust will not return for 100 years. Since that time, I have always believed in the importance of the goodwill.
The yukata, which has been popular since the time of the first brother, is not a so-called "yukata" but a delicate pattern of an authentic kimono, carved into a mold and dyed by hand. Unusual for the time, the yukata was used as a house wear after bathing, and a great deal of effort was put in by master craftsmen. The water glue finish made it cool and soft on the skin, and it was also valued as a gift. The yukata was also easy to tailor with the approval of a Japanese dressmaker. Masako Shirasu and owners of foreign brands, who were still unknown at the time, also came to purchase these kimonos.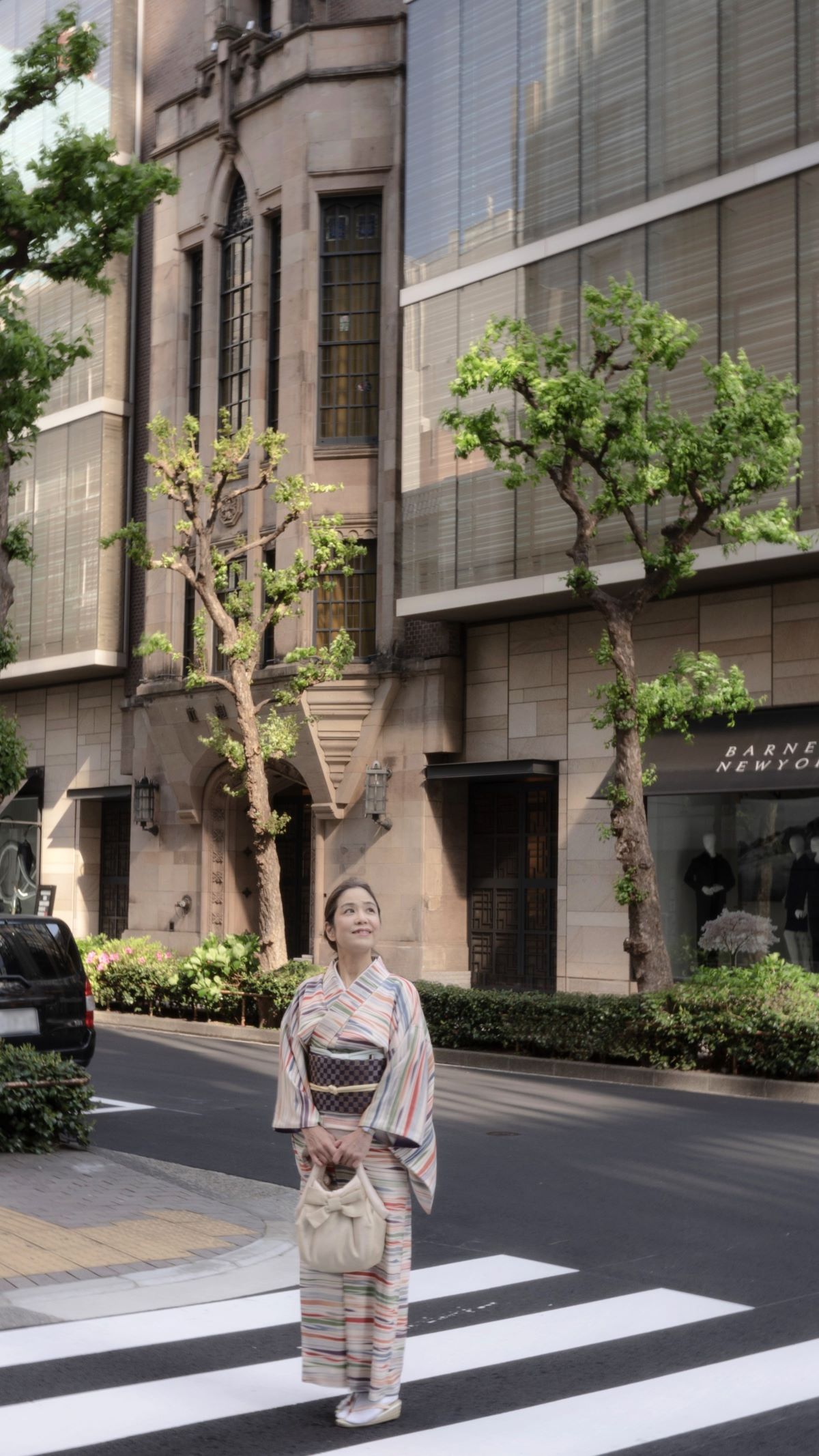 Our commitment to excellence and our desire to research and improve our techniques are what keep us ahead of the curve in our business...
Hideo's grandson Hideo, my father's cousin, inherited the footwear of Yoshitaro II, and my father used to tell me that Hideo would adjust the position of the snare and the jamb to match the customer's footwear just by glancing at his or her feet. It seems that Yukio Mishima also patronized the shop and featured it in his book. It has been 20 years since Hideo passed away and more than 30 years since he quit his job, but I still hear from customers about his mastery.
My father, like my grandfather, was a bookworm and a "Ginza scholar," not unlike a businessman. He loved kimonos and seemed to be serious and happy when he accompanied my father on purchasing trips. My father was about 78 years old at the time, and the senior staff of 88 and 98 years old took care of him. They called me "Miss, Miss" when I was in my 30s, and showed me various kimono designs and pictures.
Although I have so far written about the history of the restaurant with a focus on the men, it was actually the proprietresses and their daughters who supported the restaurant behind the scenes. It would be a long story to tell you about the activities of Kin, Mii, Fumi, Masuko, Miyo, Mitsuyo, Yone, Keiko, and many other women.
And as the years go by, I feel that the blood of such "monozukuri" Chitani family runs in me as well.
We are grateful to our predecessors and customers, and want to create a new style in accordance with the times while cherishing traditional products and techniques.
Ginza Yiseyoshi
Three Concepts
A shop that offers the "Yiseyoshi taste".
Although the value of the jizome yukata started by Risaburo, the younger brother of the first generation, the wood crafts of Kihachi Kiuchi, Hanko, and Shoko, and the footwear of Hideo may differ, I love them all equally as masterpieces that make full use of the skills of their respective masters. Whenever I look at the remaining items, hand-painted designs, and yukata molds, I feel how great the spirit of research and improvement in superior techniques, warmth and kindness, and love for the items must have been.
I am fascinated by the spirit of those who came before us, and I feel compelled to tell you about it.
---
Old things are , new things are nostalgic...
A shop that values Ginza's character as a town of individuality and playfulness
Since 1868, when Edo became Tokyo, the history of the Chitani family, which has operated businesses from Shinkawa to Nihonbashi to Ginza, has been marked by the history of one of Tokyo's leading commercial districts. Ginza-ness" is the second pillar of the Ginza Iseyoshi concept.
Ginza is a place where the old and the new mix], different from the "miyabi" of Kyoto and the "iki" of Edo, overflows with playfulness and individuality, and the customers are always the judges of Ginza. Only stores that meet the customers' Ginza filter can continue to operate here, and I am grateful to Ginza as a "home" for this sense of tension!
---
Japanese culture to the future and to the world.
I believe that the Japanese culture of living with nature through the seasons and cherishing daily milestones contains many hints and wisdom for people to live a happy and joyful life. I have also experienced a bit of Japan as seen from abroad, and this awareness has deepened with each passing year. Kimono is a part of Japanese culture. It is a Japanese experience inside the body that you can experience even with your eyes closed and ears covered. We would be very happy if we could expand the experience with you little by little from here. Please feel free to visit us.
---
We sincerely appreciate it if you could call us when you visit us.
03-6228-5875